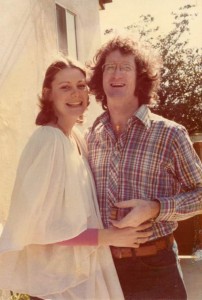 Jean Francis Mullen
July 25, 1952 – August 29, 1978
She was our sister, our friend, our optimist, our love, our hero, and our "Star." Her music made our hearts sing with love and affection.
Jean (aka Jeannie) was born in Hondo, Texas the 2nd of six children. . God blessed her with talent, beauty, and determination to share her musical gifts with the world. In her short life, she touched many people through her entertainment performances and her heart-felt music. Her voice was her gift, and her life was our gift. We're not sure why her life was cut short at the age of 26 years, but she was in a tragic auto accident in Utah that took her life and that of Scotti Bruning, her love, friend, and soul-mate. He was from Colorado, where they were driving for a few Rocky Mountain performances.
Jean grew up singing and learned to play piano as a child. In high school, she spent her baby-sitting money on a $100 guitar and taught herself to play so she could accompany her singing. She began to write her own songs during this time in her life.
Jean and her family lived in Texas (Hondo, Midland, Kerrville, and San Angelo) until the age of 16. In 1968, her family relocated to Springfield, Illinois, where she attended the last two years of high school. She performed in acapella choirs, the high school chorus, summer musical festivals, and high school plays. During this time, she realized her "on-stage" potential and how much she loved to entertain and sing. Her 5'11″ persona was not one to be ignored!
After graduation from Springfield High School in 1970, Jean attended Illinois State University in Normal, Ill. For two years, she studied pre-med with her sights set on becoming a doctor. During her sophomore year in 1972, she auditioned for a lead-singer part with a band, Head East. When Head East hired her to be lead singer, she decided to pursue her singing career and left school. After a year of singing with the band and experiencing tours and lime-light, the hard-rock music of the early 1970s took its toll on her voice. Jean also suffered from an asthmatic condition aggravated by the smoke-filled bars, which resulted in a few frightening emergency room experiences because she was unable to breathe. For this reason, she decided to leave the band and step out on her own as a solo performer, playing guitar and singing in better air-quality conditions. Knowing only 20 songs, she got a job in a restaurant in Bloomington, Illinois, called Ireland's. She worked diligently to learn more music and continued to write her own songs. Her fan base began to grow.
During the year of 1974, on one occasion, she was visiting another restaurant and listening to some musician friends who were performing. They invited her up on stage to sing a song. After the song, the well-known actor from Mash, McLean Stevenson, (originally from Bloomington, Illinois), came up on stage and announced that he would like Jean to be his guest when he next hosted the Tonight Show on Johnny Carson's behalf. True to his word, in January, 1975, Jean Mullen Pohlman (in 1974, she had married Ted Pohlman from Joliet, Illinois, which sadly ended in divorce a year or so later) performed on the show and sang Kenny Loggin's song, "A House at Pooh Corner." This opportunity and touch of stardom, inspired her to re-locate to Los Angeles and seriously pursue a national music career.
In December of 1975, Jean moved to El Porto Beach, California, a northern portion of Manhattan Beach. She loved her apartment on Moonstone Street near the beach and made many friends. She played many venues during her last three years in Los Angeles, including but not limited to the Chart Houses (Westwood, Marina del Rey, Long Beach, Redondo Beach), Mike's Munchie's in Long Beach, The Palomino Club in No. Hollywood, the Troubadour Club (one of her personal notable achievements), and Shenanigan's in Hermosa Beach. Some of Jean's fans worked for the Easy Reader – a beach and Los Angeles-based Newspaper. Jean was interviewed by Mary Lynn Lyke, and tells her own life story better than any biography can!!
In 1977, she formed the Jean Mullen Band and included bass player and vocals, Tom Buckman; violin, mandolin, keyboardist and vocals, Jimmy Davenport; and Richard Lee on the flute. The crowds loved them. They played many venues and were getting lots of attention, but still no recording contract. Jean and her band had a chance to play and meet other musicians, including singers, Juice Newton and Claudia Nygaard, to name a few. Jean also formed a partnership with music producer Jim Neuman in 1978. Jim was commited to help Jean sign a recording contract. Her life was "a-buzz" with the potential to be a recording star.
During this same year of 1977, Jean met Scotti Bruning and fell in love. Scotti was a performing musician who also played at Shenanigan's in Hermosa Beach. They began to inspire each other to write, record, and perform their own music. Jean would sing and accompany Scotti in his music, and Scotti would play accompaniment for Jeannie's music and vocal back-up. Fortunately, a friend of theirs, Scott Bishop, loaned Scotti and Jean a four-track tape player that enabled them to turn their living room into "J & S Living Room Productions". Scotti also recorded live performances of the Jean Mullen Band at the Chart House in 1977 and two afternoons at Shenanigan's in July, 1978, one month before their accident. As such, 30 years later, we are blessed to have many original recordings of their music.
During the years 1975-1978, while she was based in the Los Angeles area, Jean found inspiration and love in the Sierra Mountains. She would spend months at a time performing at the Rafter's and other spots in Mammoth Lakes, California. She learned to ski and made many new friends in the high Sierras. Her music-writing continued and she wrote many songs about the beauty of the mountains, the fresh air, the trees, rivers, and her feelings of love. She became the self-professed "Sierra Minstrel" and named a song such.
Her biggest personal achievement was performing at the 1st Summer Sierra Music Festival on August 5, 1978, outdoors on stage behind Warming Hut #2, to a large crowd on the hill. This was her magical concert that was truly one of her greatest moments as a performer. (The Mullen family is searching for any recordings of this original concert.) In 2001, Tom Buckman, with the help of Chuck Scantolini, asserted their efforts and produced the "Jean Mullen Reunion Concert" at Mammoth Lakes. Tom's achievement was a huge task and was very well received from the Mammoth community, her fans, and her family in memory of Jean. He deserves an award for his production efforts as well as his musical performances!
In December, 1978 after her death, four of Jean's original songs won awards from the American Songwriters Awards. They had been submitted by Jim Neuman. Regrettably, she never lived to realize this achievement.
In January, 1979, friends inspired by Jean and her music, raised money to produce her much talked about, "Green Bean Jean" album. It was printed on green vinyl and sold to many of her fans, old and new.
Jean's siblings are inspired to preserve Jean's legacy and music through the use of new technology and introduce her music to family, friends, and fans once again. Her 3 ½ range octave voice still lives within those of us who knew her, and we hope she can now inspire new songwriters, musicians, and music lovers.
(In loving memory of Jean. Written by Diane, Jean's sister.)